After more than 100 hours spent flying in a helicopter above, across and over Iceland, Rick Rothschild is still amazed. On assignment as FlyOver Iceland's creative director, he says it's been a constant show of delight and surprise.
Jagged coastal fjords, towering peaks, vast glaciers and expansive braided rivers abound. "I swear every time we go somewhere, we see something interesting, unique, extraordinary and awesomely beautiful," he says.
This team of visual creatives, professionally dedicated to capturing the beautiful, has experienced each flight as an aesthetically rewarding and pure exploration. And their sense of wonder comes through clearly in the awe-inspiring flight ride they created.
Iceland's story emerges
Rothschild says from the Iceland flight ride's earliest stages — when he and the film's director Dave Mossop, along with local guidance from Pursuit's local Icelandic team, first began putting a list together of potential locations for FlyOver Iceland — a clear theme came to the forefront. He likes to call it "the extreme and the unexpected Iceland."
They started with a strong list of potential locations where filming could work, where there'd be the right mixture of dramatic landscape and humanity moving through that beauty. But Rothschild says the entire process has been much more like an evolving journey than a simple checklist.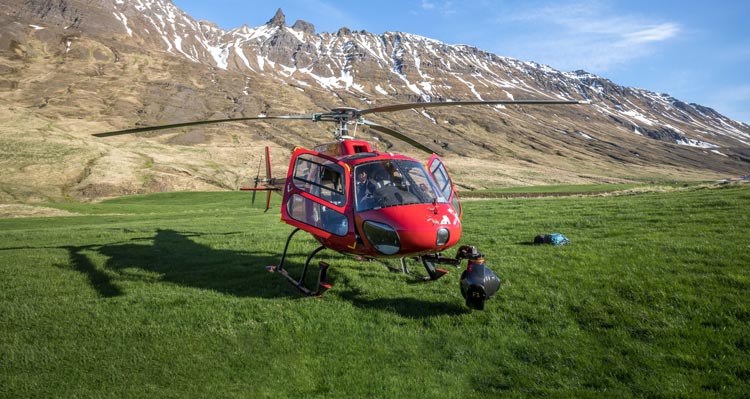 Along with Mossop and a talented and nimble team, the film crew knew early that they couldn't presuppose what the story would be. After extensive research into culture, history and landscapes, with guidance from Pursuit's local Icelandic team, they homed in on the spirit of Iceland and its people.
"Iceland is not a big place but it's an extraordinarily remarkable place," Rothschild says. After weeks and weeks of scouting and filming from the helicopter, he came to appreciate the island country in a way few ever have. "I think what I most like about Iceland is the rawness of nature that's exposed there."
There's a "constant stream of water that's everywhere" and (unlike other places) it's not hidden by canopies of forest. Everything is exposed. There's the tectonic complexities and volcanic evolution happening right in front of your eyes. There are extremes in daylight and colours, from 24-hour light in mid-summer to the depths of the dark winter.
Iceland weather: be prepared
The team received ample warning about the notoriously unpredictable weather in Iceland. "Everyone kept saying, 'Don't forget about the weather!'," Rothschild says.
You can't plan a trip to Iceland, no matter the logistical complexities, without doing so.